News · Rachel Podger wins Gramophone's 2018 'Artist of the Year' Award
Friday 14 September 2018
Rachel Podger's "Midas touch" (The Sunday Times) strikes again; we're delighted to announce that Rachel has been named as Gramophone Magazine's Artist of the Year.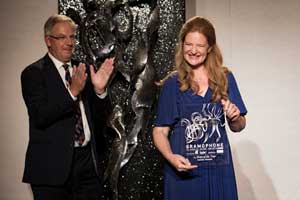 A thrilled Rachel collected her award at a ceremony last night which was broadcast live on Medici TV and Classic FM, she comments "How extraordinary to be 'Gramophone Artist of the Year'! Thank you so much to James and all at Gramophone Magazine… None of this would happen without the encouragement of colleagues in the profession. I am deeply grateful to Gramophone for giving me this distinguished award. Thank you!"
Rachel "the unsurpassed British glory of the baroque violin" (The Times) and Brecon Baroque's release of Vivaldi Le Quattro Stagioni on Channel Classics shot to the top of the charts in May, winning a Diapason D'Or, Gramophone Magazine Editor's Choice, BBC Music Magazine Chamber Choice, BBC Radio 3 CD Review Disc of the Week, and Classic FM Album of the Week. Praise included "Rachel Podger's Midas touch makes even a warhorse such as Vivaldi's Four Seasons sound fresh-minted." The Sunday Times
As a celebration of this award, Apple Music will for the first time have Rachel's entire recording catalogue available for purchase online, and Channel Classics has released a special vinyl edition of Vivaldi Le Quattro Stagioni.
Rachel's fresh and creative approach to repertoire continues through a packed schedule including concerts in her own Brecon Baroque Festival (19-22 October), collaborations with artists such as Kristian Bezuidenhout, mezzo Ciara Hendrick (Bach Dynasty) and tours and residencies across the world with the Orchestra of the Age of Enlightenment, VOCES8 (A Guardian Angel) and her own ensemble Brecon Baroque. Rachel's education work continues through her work at the Royal Academy of Music and The Juilliard School.
You can read more about the 2018 Gramophone Award winners in the next edition of the magazine and watch the ceremony via Medici TV.
Rachel and Percius are thrilled with the award, and extremely grateful for all of the support Rachel receives. Thank you.